Infinity PFM 0.7.1 Released - September 6th, 2014
This release fixes a critcal bug that prevented new users on Ubuntu 14.04 and above to launch the application after first download. This release also adds a self extracting binary download for users of non Debian based distributions.
Changes
Fix for 1362721 Application startup throws errors during database creation.
Blueprint create-self-extracting-release-bin: Added self extracting bin download.
Infinity PFM 0.7.0 Released - August 24th, 2014
This is the final release for 0.7.0.
The main feature added in 0.7.0 is the ability to link incoming transactions to accounts using a set of simple rules defined in the new Import Rules page (example below).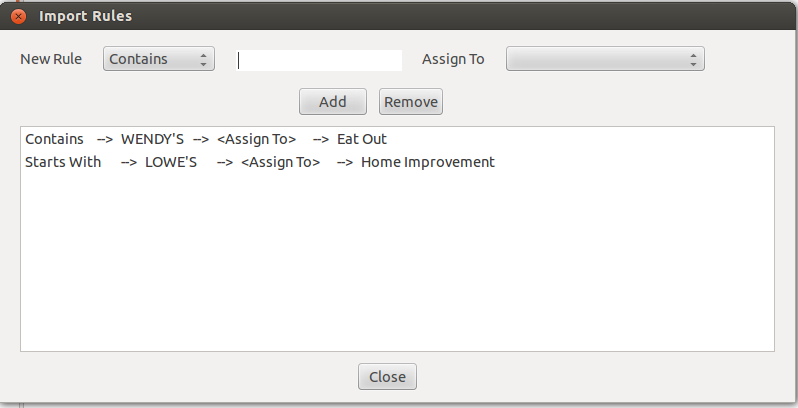 Changes
Installer for Debian Wheezy
Use bitcoin.conf for login to client when available
Add commit all button to pending transactions interface
Add account balance to register
Add income accounts to Account balance report
Add ability to asign rules for transaction upload
Fix for 1121332 Bitcoin import not working with version 0.7.2
Fix for 1360836 Crash when running reports on Ubuntu 14.04 LTS
Fix for 1087878 OFX import memo field blank for personal checks
What is Infinity PFM?
Infinity PFM is a open source personal finance manager written in Java. See below for main features.
Features
Budgeting
Recurring Transactions
Color Reports
Charts
Currency Support
Bitcoin Support
QIF, QFX, and OFX import
Desktop and Web Interface
Free and Open Source
How to get it
You can download Infinity PFM here